2019 NECO GCE CRS / IRS OBJ AND ESSAY ANSWER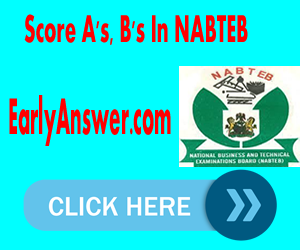 NECO GCE CRK QUESTIONS
Section A
1a) Narrate the circumstances surrounding the flight of Moses and how he settled in the land of Midian.
(b) What three lessons can we learn from this episode?
2a) Describe what Amos regarded as true religion.
(b) Outline any three social vices you can identify in your local community, state or nation.
(c) Suggest three ways of eradicating the vices.
(3)The word of the Lord came to Jonah the second time saying "Arise, go to Nineveh, that great city and proclaim to it he message that I tell you
(a) Highlight the reactions of Jonah and the Ninevites respectively to the above instructions.
(b) What three lessons can we learn from this?
Section B
4a) Give Matthew's account of the call of the first four disciples of Jesus.
b) State three reasons why Jesus requires disciples.
5a) Discuss the soldiers reaction to Pilate's decision to deliver Jesus Christ to be crucified.
b) List the four words of Jesus Christ on the cross as recorded in the synoptic gospels.
6a) Discuss the circumstances surrounding the appointment of the seven deacons.
b) State any three social problems that existed among the early Christian believers that are still in existence in our churches today.
Section c
7a) Describe the event at Bethany which made Jesus speak of himself as the Resurrection and the Life.
b) What three lessons can we learn from the declaration?
8a) With reference to Paul's letter to the Galatians, give a detailed account of his teaching on New Life in Christ.
b) In what three ways can Christians uphold the teaching today?
9a)What is humility?
b) Highlight the concept of humility as was taught by St. Peter.
c) What three lessons can we learn from this?
=============================================================
ANSWERS…
(9a)
Humility is the quality or attitude of being modest, thinking lowly of oneself and not being proud or arrogant. This is quite different from having a low self-esteem.
(9b)
(i)In the same way, you who are younger, submit yourselves to your elders. All of you, clothe yourselves with humility toward one another, because, "God opposes the proud but shows favor to the humble."
(ii)Humble yourselves, therefore, under God's mighty hand, that he may lift you up in due time. Cast all your anxiety on him because he cares for you.
(iii)Be alert and of sober mind. Your enemy the devil prowls around like a roaring lion looking for someone to devour. Resist him, standing firm in the faith, because you know that the family of believers throughout the world is undergoing the same kind of sufferings.
(iv)And the God of all grace, who called you to his eternal glory in Christ, after you have suffered a little while, will himself restore you and make you strong, firm and steadfast. To him be the power for ever and ever. Amen.
(9c)
(i)It's Good to Take Risks, but Don't Be Rash; St. Peter eventually overcame his rashness to become the rock on which Jesus built his church. (Mark 8:33)
(ii)Humility is Key; Humility is what kept Peter (even in spite of his brusque, rash personality) close to Our Lord.
(iii)Hope is Vital; Making time for prayer is vital to having hope. (1 Peter 3:15).
=====================================
(6)
So the Twelve gathered all the disciples together and said, "It would not be right for us to neglect the ministry of the word of God in order to wait on tables. Brothers and sisters, choose seven men from among you who are known to be full of the Spirit and wisdom. We will turn this responsibility over to them and will give our attention to prayer and the ministry of the word."
This proposal pleased the whole group. They chose Stephen, a man full of faith and of the Holy Spirit; also Philip, Procorus, Nicanor, Timon, Parmenas, and Nicolas from Antioch, a convert to Judaism. They presented these men to the apostles, who prayed and laid their hands on them. So the word of God spread. The number of disciples in Jerusalem increased rapidly, and a large number of priests became obedient to the faith.
(6b)
(i)Tribalism
(ii) Favouritism
(iii) Disregarded for the poor
=====================================
(4a)
As Jesus walked beside the Sea of Galilee, he saw Simon and his brother Andrew casting a net into the lake, for they were fishermen. "Come, follow me," Jesus said, "and I will send you out to fish for people." At once they left their nets and followed him. When he had gone a little farther, he saw James son of Zebedee and his brother John in a boat, preparing their nets. Without delay he called them, and they left their father Zebedee in the boat with the hired men and followed him.
(4b)
(i)the disciple were to learn from him what they see him do that what they will do also
(ii)the disciples will bear him witness and testify of him
(iii)the disciples will continue long after he returned to heaven
=====================================
(2a)
Apart from social justice that had been corrupted , the religion of the Israelites was no longer practiced as they had deviated from observing the covenant made with God. Their hearts were not truly with God, they only pretended by fulfilling the physical obligations of worship such as payment of tithes and offering sacrifices while the real fear of God was not in them. Their religion had been polluted with the worship of idols; a case in point was the golden calves made by Jeroboam which he put one at Bethel and the other at Dun. This Bethel was the place of worship for Israelites by then. Also, there were other idols brought by the foreign women that various kings of Israel had married. All these combined to pollute the true worship of God in Israel, they felt they could appease God by their sacrifices but God rejected their offerings and sacrifices because they were not from people with a pure heart.
In other words I will have no regard for them. Away with the noise of your songs!I will not listen to the music of your harps. But let justice roll on like a river, righteousness like a never-failing stream!
(2b)
(i)Oppression of the poor
(ii)Corruption
(iii)Dishonesty
(2c)
(i)Payment of tithes and offerings is meaningless without an upright life
(ii)The society should love those who speak the truth
(iii)Too much of luxuries and pleasures drag people into all kinds of evil and social vices
=====================================
Bonus
(5a)
Then the soldiers Reacted by taking Jesus into the Praetorium and gathered the whole garrison around Him. And they stripped Him and put a scarlet robe on Him. When they had twisted a crown of thorns, they put it on His head, and a reed in His right hand. And they bowed the knee before Him and mocked Him, saying, "Hail, King of the Jews!" Then they spat on Him, and took the reed and struck Him on the head. And when they had mocked Him, they took the robe off Him, put His own clothes on Him, and led Him away to be crucified.
(5b)
(i)Father, forgive them; for they know not what they do. Luke 23:34
(ii)"I tell you the truth, today you will be with me in paradise." Luke 23:43
(iii)And at three in the afternoon Jesus cried out in a loud voice, "Eloi, Eloi, lema sabachthani?" (which means "My God, my God, why have you forsaken me?")Mark 15:34 also
Matthew 27:46 (all are among the synoptic gospel)
(iv)Jesus knew that everything was now finished, and to fulfill the Scriptures he said, "I am thirsty. John 19:28
=====================================
]
Comment
Categories: Neco Gce