2020 WAEC GCE 1ST SERIES AGRICULTURAL SCIENCE OBJ & THEORY QUESTIONS AND ANSWERS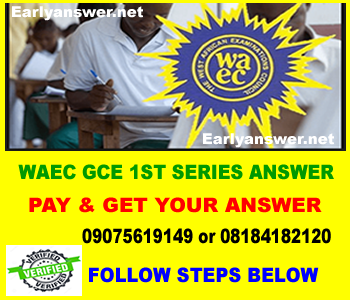 AGRIC SCIENCE
1-10: DADADABCDD
11-20: CBCBCCBCCD
21-30: DABBDDDABD
31-40: AAACCADACC
41-50: DCBBDACDAC
(1a)
= It involves the use of hired labour.
= Records are kept in commercial agriculture.
= Yield or output is usually high.
= It involves huge investment of capital or money.
(1b)
= National Agricultural Insurance Company (NAIC)
= Agricultural Development Projects (ADPs)
= River Basin Development Authorities
= National Agricultural Land Development Authority (NALDA)
= Agricultural Development Bank (ADB)
(1c)
(i) Bulldozer:
= It is used for bush clearing.
= Iris used for felling trees and stumps.
= It is used for levelling the ground
(ii) Mist Blower:
= Used to control insects through the use of insecticides.
= It can be used to spray liquid fertilizers and pesticides.
= It is also used to spray disinfectants on livestock houses.
(iii) Tractor:
= Can be used for mowing lawn with mowers.
= Pulling of farm implements like plough, etc.
= Tilling the soil with appropriate implement attached.
=====================================
(2ai)
Bush fallowing is a system of farming whereby the farmer cultivates one piece of land for some years and later leave it for some years with the aim of restoring the fertility of the soil naturally.
(2aii)
(i)It ensures continuous sustenance during periods of crop failure
(ii)It can be used to check soil erosion, leaching and weed growth
(iii)It is very easy to practice as low technology as required
(iv)It aids the natural restoration of soil nutrients during the fallow period
(2bi)
-Harrowing-
(i)Creating of a crumbly layer for planting.
(ii)Protecting the soil surface from rapid drying.
(iii)Improving both the air and water penetrability into soil.
(2bii)
-Flooding-
(i)sewerage systems (ii)roadways
(iii)canals.
(2biii)
-Overgrazing-
(i)Soil erosion
(ii)land degredation
(iii)Loss of valuable species
(2c)
(i)Annual ryegrass.
(ii)Small grains.
(iii)Kentucky bluegrass.
===================≠================
(3a)
Soap industry = Coconut oil, palm oil
Textile industry = Cotton, Silk
Beverage industry = Cocoa, Coffee
Canning industry = Fruits,
(3b)
(i) A nursery is a place where plants are propagated and grown to usable size.
(ii)
Water Supply
Drainage
Area
Accessibility and Nursery roads
(3c)
= It is economical in the use of water.
= Fertilizer can be applied through this system.
= It reduces salt concentration in the root zone.
= It operates with slower line pressure.
===================================
(4ai)
(i) pumpkin
(ii) melon
(iii) bean
(4aii)
(i) They destroys crop yield
(ii) They bring about death in a crop
(4aiii)
(i) Try spraying cold water on the leaves; sometimes all aphids need is a cool blast to dislodge them.
(ii) If you have a large aphid invasion, dust plants with flour.
(4b)
(i) Age
(ii) Level of performance
(iii) Physical Fitness
(iv) Health
(v) Temperament or Behaviour
(4c)
(i) Deforestation: This is the continuous removal of forest stands (trees) either by bush burning or indiscriminate felling without replacing them.
(ii) Taungya Farming: This is the planting of arable crops at early stages of forest establishment and the arable crops are harvested before trees form canopies .
(4d)
Horticulture is defined as the art or practice of garden cultivation and management.
Categories: Waec Gce